Fission is the splitting of a cell into two or more cells. Each small cell is known as a daughter cell.
What is Binary Fission
In Binary Fission, the cell divides itself into two equal, identical parts with the same DNA.
Notice that binary fission starts with the nucleus dividing itself into two (mitosis) and move to opposite sides of the cell. After the cytoplasm constricts in the middle to split into two. The two new cells will have identical DNA.
What is Multiple Fission
In Multiple Fission, the cell divides into many cells by mitosis.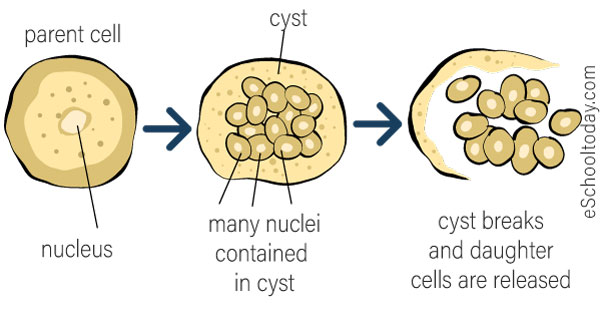 In multiple fission, a protective covering called a cyst develops over the cell. The nucleus then divides itself into many more nuclei, which becomes the core of many daughter cells contained in the cyst. As the cyst breaks, the daughter cells are released. An example of multiple fission can be seen in some protozoans such as Plasmodium (malaria parasites).
Recommended Science Lessons