What is separation in vegetative propagation?
Some plants produce vegetative plant structures for two major reasons: vegetative propagation and food storage for the plants. Some of these vegetative structures include bulbs corms, rhizomes, suckers, and tubers.
In all the above vegetative structures, two ways of getting shoots from the parent plant could be used. They are Separation or Division. It is important to use the right words to describe the process.
What is Separation?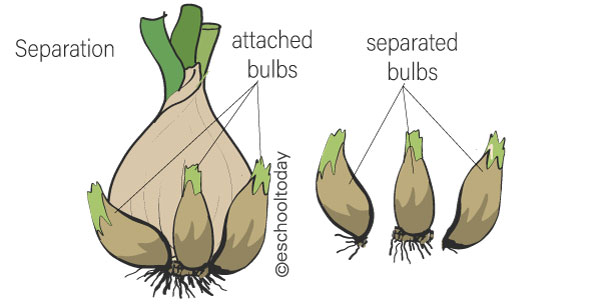 In separation, the new shoot is just removed (detached) from the parent for planting. Bulbs of daffodils, tulips, and lilies can be separated in this way. Some bulbs also produce smaller bulbs called bulblets that attach to the base of the parent bulb. They can also be separated for propagation. Cormels (baby corms that attach to the parent corm) can also be separated for propagation.
What is Division?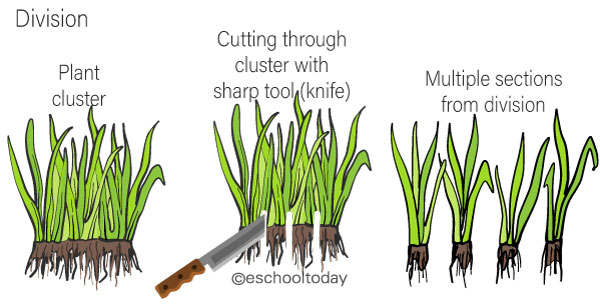 In division (or stock division), the vegetative structures, often with eyes or buds in them, can be cut into multiple sections. Each of the sections can then be planted to produce a complete independent plant.
Division is not a natural process.
Iris and Lily of the valley rhizomes can be divided in the way. Stem tubers such as that of potato can be divided and the eyes in each section can produce a shoot for propagation.
Division is also a generic term that is often used when a cluster of plants are cut away into small units to begin new growth and to rejuvenate the plant.
Source: 1. VEGETATIVE PROPAGATION TECHNIQUES. PERRENIAL CROP SUPPORT SERIES, JALALABAD, AFGHANISTAN. Page 9, Publication No. 2007-003-AFG November 18, 2007 https://www.sas.upenn.edu/~dailey/VegetativePropagationTechniques.pdf Accessed on 20 Sept 2017
Recommended Science Lessons