This may look similar to seed formation in flowering plants, but spore production only occurs in non-flowing plants and other microscopic organisms. Examples of such organisms include fungi, green algae, molds, protozoa, and ferns.
Scientists believe that the ability for bacteria to sporulate (produce spores) makes them thrive in diverse ecosystems and also makes them survive adverse conditions and environmental fluctuations.
The term sporulation is often used to mean the production of spores by bacteria when conditions are harsh. Such spores can remain dormant until conditions are favorable.
An example of bacteria that sporulates up to about 9 endospores is Metabacterium polyspora. In this bacteria, the cell produces spores at the poles. The spores divide to produce more spores, elongate and develop into mature endospores.
Illustration of sporulation in a bacteria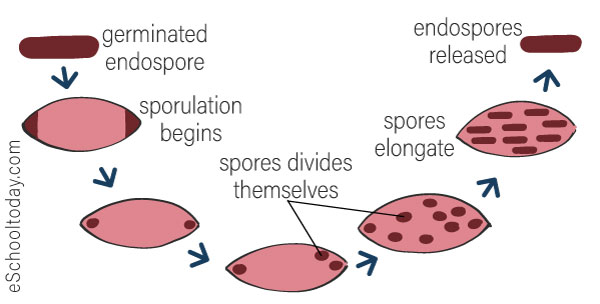 In algae, the parent organism produces between 4-8 spores, which are tiny circular bodies by cell division. Each spore has a thick outer coating that protects the inner cell. Each spore is motile (can move), and when released from the parent organism, will develop into a new organism identical to the parent under the right conditions.
Source 1: Sporulation in Bacteria: Beyond the Standard Model ELIZABETH A. HUTCHISON, (1 ) DAVID A. MILLER, (2) and ESTHER R. ANGERT (3) 1 Department of Biology, SUNY Geneseo, Geneseo, NY 14454; 2 Department of Microbiology, Medical Instill Development, New Milford, CT 06776; 3 Department of Microbiology, Cornell University, Ithaca, NY 14853
Recommended Science Lessons