What is Online (Cyber) Bullying?
In this modern era, the internet, computers, and mobile phones are common ways of networking and having access to each other. But this also comes with a very serious threat. Bullies these days use the computers, internet, and phones to:
Send threats, taunting, or teasing e-mails to others.
Spread gossip or rumors.
Impersonate (pretending to be someone) online to get you to e-mail things that will embarrass you or put people in trouble.
Texting hurtful or rude comments to someone's phone.
The National Bullying Prevention Center defines Cyberbullying as 'Cyberbullying is the use of technology to repeatedly and intentionally harass, hurt, embarrass, humiliate, or intimidate another person.' (1)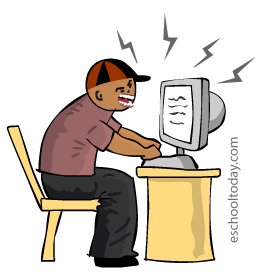 The internet is virtual (that means it is not something tangible that you can touch). This encourages evildoers and bullies to remain anonymous to hurt others. Anyone at all (including the guy that sits next to you in class) can anonymously use the internet to send you dirty, embarrassing, and dangerous messages, and you will never know. This means we all need to be careful and vigilant.
If you think you are being bullied online, tell an adult immediately. These days, people can be identified and arrested.
Below are a few things you can also do:
Avoid unsafe websites. If your dad or mum is watching your activities online, do not stop them. They are doing so to protect you.
Do not share personal information (email passwords and others) with someone you don't know or don't trust. Change your passwords often.
Do not post your e-mail address on a public message board or in a chat room. Keep your email away from the public.
Don't join or comment on funny things that people post online. Stay away from trouble. If you are not sure of something, get someone to read over it before you post things online.
1. National Bullying Prevention Center, Cyberbullying: https://www.pacer.org/bullying/info/cyberbullying/
Recommended Social Lessons